So it's been a few days and Aaron's accepted the whole "new ring" idea. I asked if he wanted to come with me to my jeweler, Stuart Simpson, and he said "maybe." (That means with a little more prodding he'll come with me.)
Along with the evil engagement ring and it's less-evil matching wedding band, I've gathered up 2 more diamond necklaces that I never wear anymore, to see if I can do a trade-in type deal with Stuart, our jeweler. We'll see what Stuart can do.
By the way, Stuart = best family jeweler in the world!
let me give you an example of the awesomeness of Stuart.
this is a "diamonds by the yard" necklace from Tiffany's-
And this photo is the
actual
size of my diamond (slightly less than half a carat). At Tiffany's this necklace at this size in 18k gold would be $3,340!!! Stuart made this
exact same
necklace in white gold for a much more reasonable price.
I'm excited to see what Stuart can do for my ring. If he can make a Tiffany necklace in my price range maybe my dream ring can be achieved.
My dream ring: Tiffany & Co. Legacy ring:
"This patented cushion-cut Tiffany diamond
surrounded by bead-set diamonds evokes the
glamour of the Edwardian period. "

But instead of the weird "cushion cut" diamond that Tiffany's uses, I want a regular cushion cut diamond like these: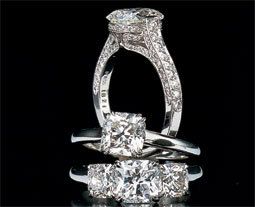 I'm not going to get my hopes up. At Tiffany & Co. those rings
start
at almost $5000 and there's not way that those four pieces of jewelry I have add up to more than a grand. But at this point I just want say goodbye to the devil ring. And I'm also just really excited that Aaron's not upset anymore. I was feeling really guilty.