I went on a marathon shopping spree with my mom and my sister, Morgan, aka. the maid of honor.
We discovered the
PERFECT store for finding bridesmaid dresses
for a beach wedding.
Calypso
is full of beachy styles repeated in several of the same colors. Check out this line-up I've pre-arranged for you using my favorite colors...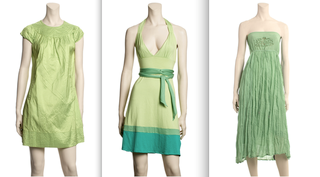 What Megan wanted-
Two different dresses from the Orange collection.


What Megan got- 
Two of the same dresses from the Turquoise collection.
How did I end up with the opposite of what I wanted?... Morgan picked her favorite (the first one in the turquoise collection photos) and them mom insisted we buy the same one for Amy (my other bridesmaid).


But here's the cool part; if Amy hates that dress or it doesn't look right on her, we can just go back to the store and exchange it for one that she
does
like in the very same color!
Now I just gotta figure out what to do with my Man of Honor!