So we're engaged... again! :)

Not that we ever weren't engaged anymore... it's just that well...


Aaron wasn't happy with the first engagement. It wasn't really "his style." He's more of a shy and low-key kinda guy. He had a plan that didn't involve my mom and dad and cousin and various aquarium employees, etc. So Aaron had another plan...
I had picked out two different rings from
Na Hoku
 and Aaron had a chance to pick one and surprise me. We wanted to get "officially" engaged in Maui but we also had a very small budget and a limited time. So i picked two rings that I would be happy with so that I could give Aaron some choice and I could be somewhat surprised.
The choices: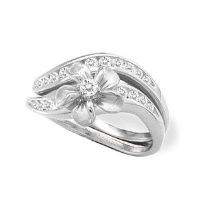 The first one is more meaningful and it also had a matching men's band. So if he chose that we could have matching wedding rings. But the second one was more of an engagement ring. And I've
always
wanted a diamond engagement ring.
When he first proposed he gave me the first ring and I was happy. He told me that he bought the matching band for himself and everything was good. If I am to be honest here, I
was
a little disappointed that I wasn't going to have a pretty diamond ring. I had my heart set on a vintage ring with a cushion cut diamond in a pave setting. But I understood that Aaron had a huge amount of medical bills on his plate and that I was lucky to have anything.
But Aaron, being the sweet thing that he is, took into account the fact that I wanted something sparkly, the fact that my family would be all over us when we got engaged in Maui so he decided that he'd by
both
rings. One to use in his Maui proposal and one to use at a later date when it felt right to him.
That day came a few days ago when we were on our way back to Los Angeles from his parents house in Texas. We take that road trip at least once a year together. I had just gotten mad at Aaron for not buying me Twizzlers and was sulking in the passenger seat when Aaron took a random exit off the 10 highway somewhere in Texas or New Mexico. We didn't know where we were exactly, but it looked like this-
and this-
I grabbed our dog Jackson and took him for a little walk, still all pissed and bitchy what with the lack of Twizzlers in my possession, I didn't even think to ask why we pulled over! Aaron fumbled around for something in his trunk, I assumed it was a jacket since it was FREEEEZING cold out. When I came back with Jackson, Aaron was on the ground "tying his shoelaces"- or so I thought. He called me over to him, grabbed the leash from me and took my hand in his and looked up at me. And there in the middle of nowhere in Texas-maybe-New-Mexico Aaron got down on one knee and asked me to marry him again. And he presented me with the second ring!
Aaron and me right after he proposed (again)!

Then we drove on and I forgave him for not giving me Twizzlers.